Wednesday, December 31, 2003
this is specially for the people of 2004 2truth.. yupps... you people had better take good care of me twin.. and make sure she fits in nicely.. and you better nt treat her like moron.. yupps.. or i'll come after all of you.. yeps... and you people better not influence her... or else... and take really good care of her.. yupps... and make sure she doesnt do any silly stuff.. and if she hurts herself its yer fault.. and i will kill you ppl... yupps... so make sure shes ok...

YOURGUARDIANANGEL

Tuesday, December 30, 2003
muahahaha.. went to school today.. i got up rather early.. and den i felt rather tired.. woke up at like 6am... yupps... i got to noe me class liao.. and... i cant sae it stinks but ya la.. well.. there are rather nice ppl there too.. yupps... me dear twin got seperated frm me.. she go to the stupid truth... so sad.. we were really hopin ta be in the same class... but she is so kanasai smart la.... go to truth.. and i go loyalty.. yupps... so many ppl go justice lor.. yupps... and then qinn wei and hui go sports class... yupps.... we are all being seperated... anw 2 loyalty class room quite big.. hahahaha.. tts gd.. but i still like the one hope classroom more... hahahahahaha.. and i love me one hope classmates more.. hahahaha.. oops sorry.. whahahahahaha.. yupps.. hopes me form teacher aint fierce.. yupps.. dunno me subject teachers yet.. but i hope they are really really nice.. yuppies.. so bored.. wells.. i HOPE ta have a GREAT year wif me class.. yupps.. =)
[kerry kor] kor kor... help me do me homework can??? i noe you very nice one.. help me do k?? haha!!

YOURGUARDIANANGEL

Monday, December 29, 2003
yeay!! going back to school tmr.. hahahahhahaha.. it means im seeing all me frends agn.. hahahaha.. i miss them so much.. it has been so long since i have talked to most of them.. hahahaha.. we will be cleaning our next year class though.. hope i have really nice teacher.. hahahaha.. and i hope theres nt much change in the ppl in me class...yupps... hahahaha.. we will be spening another one year wif our new classmates.. hope i get really crazy and crappy ppl as me classmates..hahahahha..den we will have a class full of crazy ppl... hahahahha.. hopes me twin will be in me class toos... hahahaha.. it will be easier fer us to bitch liddat.. hahahahhaha.. but whoevers in me class.. i hope we will be havin a real great and fun year.. hahahaha

YOURGUARDIANANGEL

Tuesday, December 23, 2003
when loved ones drive away, watch until you can no longer see the car

YOURGUARDIANANGEL

when someone lets you down, dont give up on them

YOURGUARDIANANGEL

spend twice as much time praising as u do criticizing

YOURGUARDIANANGEL

forgive quickly

YOURGUARDIANANGEL

dont compare your children with their siblings or classmates

YOURGUARDIANANGEL

remember a kind word goes along way

YOURGUARDIANANGEL

say something positive as early as possible everyday

YOURGUARDIANANGEL

Monday, December 22, 2003
man.. im so really fat!! -screams- anw me and siying have been like gettin pissed off recently.. hahaha.. and im having piano lessons tmr.. how can tt happen?? nvm.. the teacher had beta bought persents or sth fer me and jasmine.. or im so nt havin me lesson.. hahahaha! and theres alwais hardly anyone online.. :( heck!! oh!! and we are going to have spring cleaning soon!! yeay!! im lookin forward to it!! its on the 30 dec.. will be seeing all me frends really soon... cant wait.. =) yupps and christmas is even nearer.. yeay !! hahaha.. presents!! yupps... haha! =)
[horsey] hahahaha! you lil stinky pinky.. hahaha.. i very bored so you must entertain me kae?? hahahahahaha!! jk.. yupps.. tk caer love ya!! -huggs-
[jinghui] i really really do hope tt you can cum ta school on the 30 juz fer a lil while.. yupps... and you cannot be taller den me kae?? hahahaha.. yupps anw siying sae tt kerry din sae anything thing to her other den all the crap he usually sae leh.. so hw?? you noe who?? and he nt in singapore nw.. damn bored.. aiya.. i really miss his dumb crappy crap.. hahahaha!! anws you tk care... love yer loads!! -huggs-

YOURGUARDIANANGEL

Saturday, December 20, 2003
hahahahahaha! jinghui help me with me blog!! yeay!! oh and i finally got to go out!! yeay!!i went out on wednesday.. wif siying.. we went orchard.. yupps met at heeren[?].. yupps and then we practically walked ard whole of orchard and we went to far east plaza.. and i got me family presents there.hahaha. =) oh im tokin to two crazy ppl nw... sigh.. some times they can really make me head blow.. hahahaha.. and make me laugh until stomach so pain... ahahaha.. me and jing hui are being really crazy.. hahahah.. and im really laughing till i die... anws... siying went crazy yesterday..... and i really din noe wad to do.. and she was bein all creepy.. hahaha.. lucky i was prepared for it.. hahahahahaha.. hahaha.. sorry siying.. anw... yupps... im damn blurr nw.. i dun exactly noe wad was happening.. and im juz makin myself even more confused.. hahahahahha.. so i shant care anymore.. anw... right... about wednesday.. yes.. there were so many so many ppl askin us to buy stuff.. erm.. wad are they called?? i forgot..nvm.. anw.. there was one sellin perfume.. yupps and i bought it fer siying.. hahaha.. and i think the perfume is really nice.. hahaha..after tt i had no money.. and anw i had to go back ready..ohs and i like was really broke before going out.. so... i only had 62 bucks to spend.. :s and i had to buy me family presents... 62 bucks..
-screams- anw ya la.. im totally broke nw... maybe a few cents left?? :'( sighs.. oh and spring cleaning is cumin... yeay!! i get to go back to school and see all me frends agn!! yeay!! lookin forward to it.. juz tt i duno wad time is it.. ok nvm.. i dun really care.. hahaha.. yesh.. and someone owes me a long long long long long long lollipop!! =) siying bought me a big round one.. and i dropped it and it cracked.. :( anw.. i still cld eat it so its ok.. and the lolli was really nice.. yupps!! oh me and siying were doing homework yesterday at me house.. but we ended up using the com fer most of the time.."oops" haha.. anw i believe i can finish it.. hahaha.. well at least i hope so.. yupps.. still got so much to talk about.. but im juz too lazy to carry on.. hahahahahahaha..
[siying] dear twin.. aiyo.. dun keep on so depressed la kaes?? and stop makin yerself eat when yer already full.. you'll only be in pain ltr on.. yupps... and pls pls pls stop hurtin yerself...even if you dun care bout yerself.. pls pls pls do it fer me sake.. or nt our other frends.. im sure they wldnt want to see you like tt right? think of things in a positive way..and im really really very sorry tt i cant really help you in any way.. sigh.. looks lie im juz a hopeless twin.. sighs.. anws i want you to really take good care of yerself ok??? yer a really sensible person.. so dun do anything stupid.. yupps.. love yer loads!! -huggs-

YOURGUARDIANANGEL

Thursday, December 04, 2003
hey girl ! miss ya. anw ur layout's done !! take care yea. and since its done, no reason fer u not to update ! ;p love ya always jaeee !
//jing hui

YOURGUARDIANANGEL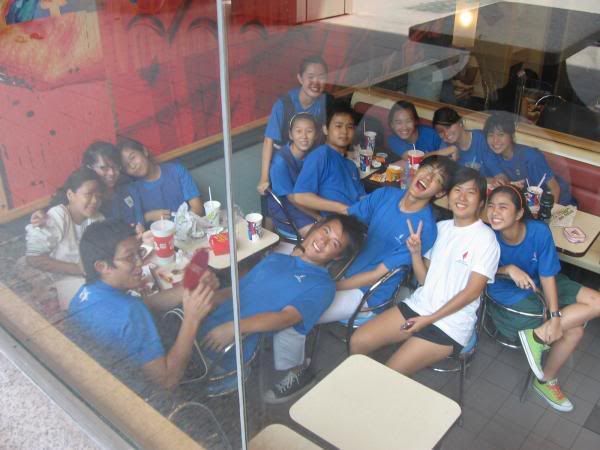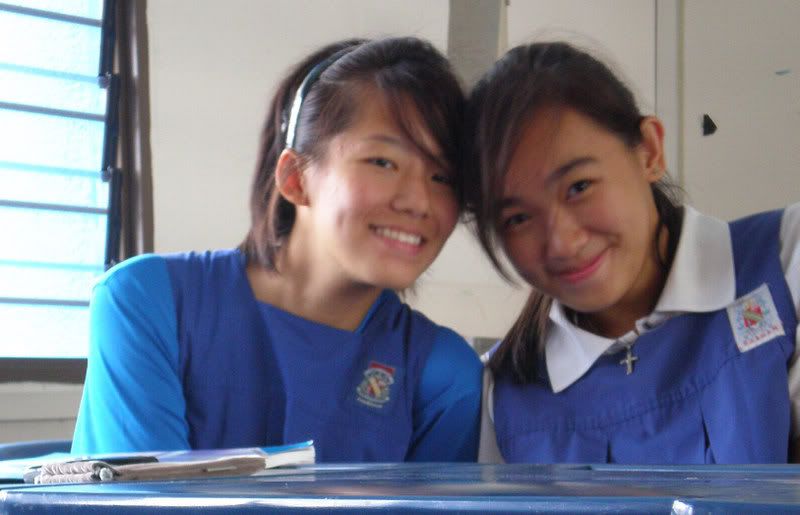 jae seventeen 280390 stnicks catholicjc ajc bluehouse cheer interact sc hockey seconehope sectwoloyalty secthreejustice secfourjustice 1T15 32/07